January 27, 2012
By Scott Briggs
SnowboardReviews.com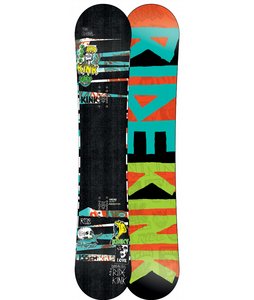 The 2012 Ride Kink is the brand  version of a park monster… this snowboard is made for the park rate that want to go big and hard all day long.   What makes the Ride Kink 2012 a really good park board is stability the boards gives you on the landings a long with the pop needed to go big off all jumps.
Top Tech Features of 2012 Ride Kink:
Prorize – This is the shape of the snowboard and is based off the popular twin tip.   The shape of the board includes the rocker, but unlike other rocker designs it has a long flat section that extends into the tip and tail to drive even more stability.
85A Slimewalls –  The slimewalls are all about being forgiving, this technology helps reduce the  impact from a jump, rail or box.  The analogy Ride provides is this is similar to skate wheels in how they interact with all different surface conditions.
Overal take on the Ride Kink 2012:  This is a board that comes back year over year as on of the top Ride Snowboards.  This board is 100% geared to park riders, so if you are an all mountain rider you are probably better to try another deck.
Check out the Ride Kink 2012 at the following reatailers:
November 7, 2011
By Scott Briggs
SnowboardReviews.com
Boston – The 2012 Ride Snowboard line has come a long way from when they launched some 10 years ago.  Ride Snowboards is no longer a small boutique snowboard company, but one of the top players in the industry making snowboards for riders who like All Mountain, FreeStyle or Park & Pipe.

The Ride Snowboards 2012 line includes 2 hot new shapes with the Hybrid Twin Tip and rhe Hybrid All-Mountain.
The Hybrid Twin Tip includes a micro rocker in the tip and tail and then a micro camber between the feet, unlike a traditional rocker this  gives you more of a loose fun riding feel while also providing the control between you feet for landings.
2012 Ride Snowboard that have the Hybrid Twin Tip:
Ride DH 2.7
Ride DH 2.6
Ride Arcade UL
Ride DH2
Ride OMG
The Hybrid All-Mountain shape is all about having rocking in the nose of the board and then a nice camber from you front foot through the tail.  This type of design is perfect from all riders and conditions as the board will float nice in the powder and it will traverse and hold nicely on pack.
2012 Ride Snowboards with the Hybrid All-Mountain Shape:
Ride Berzerker
Ride Highlife UL
Ride Farah
Ride has done a nice job upping their game in 2012, so make sure you check out their boards.
Check Out Ride's Board's Today:
2012 Ride Snowboards at The-House
2012 Ride Snowboard at Proboardshop
April 28, 2011
Boston – The Ride Kink 2011 snowboard is one of Ride's top all mountain freestyle snowboards.    Year in and out this is not only one of Ride Snowboards top sellers, but it is also one of the favorite boards for their team riders.
What's new with the Ride Kink 2011?
The Ride Kink 2011 is all about the new rocker shape technology call ProRize™, giving this board even more stability and pop for the park or just free riding.  The rocker shape was a feature that per Ride the team riders where demanding on one of their boards, so they added it to the Ride Kink & DH.   When you hear companies talk about a rocker shape most have a very similar approach and here is the exact way that Ride explains it "this new shape has a long, stable flat zone for landing stability and pop. Built for going big and locking in landings without the fear of rocker washout."  So those boarders who like to hit the park or just off anything, the ProRize is really going to help you with those landing and give you more confidence to go bigger.
What else will riders like with the 2011 Ride Kink?
The Kink brings back some of its top technology like the Cleve Edge, Thin Con Construction, 85a Slimewalls and then the super fast Fusion 1500 Base.    The Cleve Edge is usually one of the features that riders like best as it is the type of edge that really bits and reduces the chatter than you will see with other boards when you are holding an edge at good speeds.
Overall take of the 2011 Ride Kink:
This is the snowboard for riders who love the park or just love to go big.  Even though it is a great all mountain board, this board is made to help riders who bigger and feel better with their jumps… when you have less worries about holding those landings your confidence is going to grow.
Check out the Ride Kink 2011 at:
The-House from $297.75
ProboardShop from $297.95
January 25, 2010
By Scott Briggs
SnowboardReviews.com
The 2010 Ride Fleetwood snowboard is a freestyle board that is made for the tall guys with big feet.  This is a wide directional shape snowboard that Ride created with the bigger rider in mind.  Before you continue to read my review you need to know I am not a tall guy with big feet, so this board is not in my sweet spot.  I am actually not a fan of wide board as I find them harder to go edge to edge.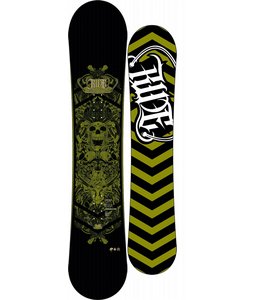 The Ride Fleetwood 2010 features some of Ride's top technology like the 90a Slimewalls, Radial Sidecut and Linear Carbon Laminate.  The 90a Slimewalls is some of Ride's top sidewall construction that is going to give you that smooth feel and quick response.  You will notice as you are riding this board that it will notice that when you want it to respond to a quick turn or landing that it will come through.  The Radial Sidecut is what makes this snowboard turn on a dime, it basically has a a sidecut that is one radius throughout the board which makes it super  smooth on turns.  Lastly the Fleetwood features the Linear Carbon laminate, this laminate give the board that extra snap for when you are pushing off the job or just trying to do a ollie off the ground.
Overall if you are a big rider you will probably like this board.  For me personally I am not a fan of wide snowboard and it was a little stiff, so this is not a great board for me.   Some positives about this board are that it is pretty inexpensive, lightweight, smooth and has some pop.

Features:
Thin Con
90A Slimewalls®
Foundation Tuned Core™
Biaxial Glass
Linear Carbon
Fusion 1500 Base
Buy this Board:
Proboardshop from $359.99
The-House from $359.99
October 28, 2009
By Scott Briggs
SnowboardReviews.com
The 2010 Ride Yukon snowboard is a board made for the big boys.  Ride created this board to be long and wide for the big foot rider, while offering a top level freestyle experience.  The Yukon is a freestyle board with a Twinish shape that can handle all terrains at top levels.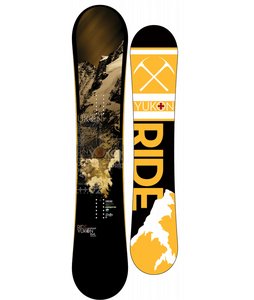 The Ride Yukon snowboard combines 4 of Ride's top tech features; Carbon Array 5, Membrain top, Pop Glass and 90a Slimewalls.
Carbon Array 5- 5 Widespread carbon stringers are placed at the binding zone gather input from any stance width and all pressure angles. Rider input is then channeled to the opposing contact point for maximum board control.
Membrain Top Sheet –  Weighing less than half of traditional top sheets, Membrain® maintains a smooth feel by infusing urethane into fabric. Along with pushing limits in the world of lightweight, this process also allows us to push the boundaries when it comes to graphics. By utilizing the textures and aesthetics associated with a variety of fabrics, Ride is able to achieve graphic tricks that are simply not possible with conventional printing techniques.
Pop Glass – 90° Carbon fibers stitched into the glass. Extra pop, without adding extra stiffness.
90a Slimewalls- The 90A durameter urethane is found on all ATV style boards, delivering increased response with the same smooth feel.
Overall the 2010 Ride Yukon is solid snowboard for those who want to take their riding to the next level.  But if you are a rider that is all about having a super soft board, this is not the right board for you.  This snowboard is for that rider that loves to press hard and likes a board that is a little stiff.  So those big foot guys out there that could not find the right board to take their freestyle riding style to the next level, this is the board you want to try.
Check out this Board:
September 20, 2009
By Scott Briggs
SnowboardReviews.com
The 2010 Ride Kink is about about the PARK, this is a board that is made to take a beating.  Sometimes there really is meaning in a name,  you know that sound you here every time you hit the rail hard with you board………………… "kink", that has to be why Ride named it.  Even though this is considered a true park board, the Ride Kink is made with a twin tip FreeStyle shape and has a centered stance.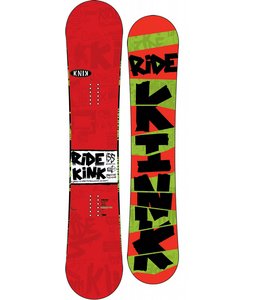 The 2010 Ride Kink features one major change and that is the addition of the LowRize sidecut.  The LowRize sidecut is basically a radial sidecut without the hook.   Ride refers to in like this : "Straighter, truer tracking into transitions and jibs by lengthening the blend zone from the sidecut to the tip shape. Built exclusively with the LowRize™ rocker profile."
This Ride Kink also features the Cleave Edge and 85a Slimewalls.  The Cleave Edge is all about more steel so the edge will not crack and it can take a beating, the reason why this board is a stud in the park.  The 85a Slimewalls are made to absorb impact rather than defending against them, this is the little bit of love you are going to need to make you feel a little better when you are about to land the big air.
Features of the Ride Kink Snowboard:
Thin Con
85A Slimewalls®
Foundation Tuned Core™
Cleave Edge™
Biaxial Glass
Fusion 1500 Base™
2×4 Inserts
Buy this board:
September 15, 2009
by Matt P.
The 2010 Ride Slackcountry has limitless potential. This board is built for riding on powder and will not disappoint. The Slackcountry is the real deal.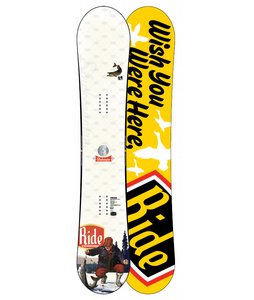 Ride has loaded this board up with features that will enhance your performance on the mountain. The HighRize rocker with HighRize specific sidecut will give you a loose feel that retains response. Membrain®, Silencer 7™ & REAL UL Glass give this board an extra light feel.
Key Features of the Ride Slackcounty snowboard:
Style: ATV
Shape: Twinish
Stance: ¾" Setback
Thin Con
90A Slimewalls®
Membrain®
NEW! HighRize Rocker
Buy this board
September 6, 2009
by Matt P.
The 2010 Ride DH2 is a serious board for serious riders. If you're addicted to the rush of boarding, the DH2 is worth a look.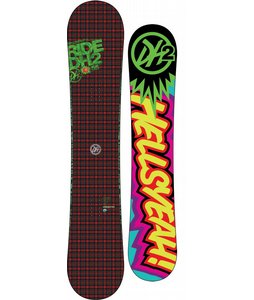 In keeping with most of Ride's boards, the DH2 is feature-rich. The LowRize rocker profile with specific sidecut will give you tons of pop. You'll also get Carbon Array 5, Pop Stixs and 85A Slimewalls.
Key Features of the Ride DH2 Snowboard:
Thin Con
85A Slimewalls®
Membrain®
NEW! LowRize Rocker
Carbon Array 5™
Pop Stixs™
Cleave Edge™
Hybrid Glass
Fusion 4000 Base™
Buy this board
September 5, 2009
by Matt P.
The 2010 Ride Crush is loaded with goodies. Considering the generous offering of features and the easy ride the Crush offers, this board is an outstanding value that will keep your runs fresh for years to come.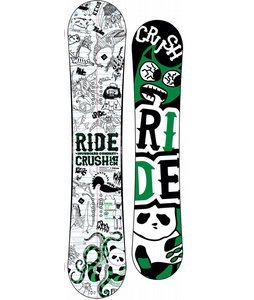 The Crush features Ride's new LowRize Rocker. Combine the Rocker with 85A Slimewalls and  you'll be working the mountain with ease. This lightweight board also features Membrain and Cleave Edge.
Key Features of the Ride Crush Snowboard:
Thin Con
85A Slimewalls®
Membrain®
NEW! LowRize Rocker
Foundation Tuned Core™
Cleave Edge™
Biaxial Glass
Fusion 1500 Base™
Buy this board:
September 1, 2009
by Matt P.
Ride has taken a classic board to the next level. You've come to know and love Ride boards, but the 2010 Ride DH combines freestyle riding with a twist. This board incorporates Pop Stixs technology, giving you the same flex and a healthy dose of ollie pop.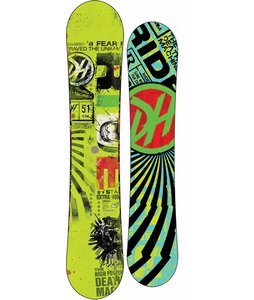 Ride DH 2010 incorporates some cool new features, including but not limited to 85A Slimewalls and Carbori Array 3, ensuring a smooth ride. If you're looking to step up your ride and get to the next level of mobility this is the board for you. Get ready to hit the mountain hard with the Ride DH.  It's a serious board for serious riders.
Key Features of the Ride DH 2010 Snowboard:
Thin Con
85A Slimewalls®
Carbon Array 3™
Pop Stixs™
Cleave Edge™
Hybrid Glass
Fusion 4000 Base™
Buy this board: