January 29, 2009
By: Scott Briggs
SnowboardReviews.com
The 2009 Forum Grudge is back for another year and has added new features to make it better than ever.  This all mountain snowboard  is the flagship of the Forum line and is also their lightest board using the Super Gnar L3 core.
The 2009 Forum Grudge is a great all mountain board that on top of being super light it gives you the feel of total control.  They try to sell this snowboard by talking about how the board has a "progressive shape" to make for an "exceptional ride".  I usally take this stuff like a grain of salt when I am making a decision, but I think this is the first time I have seen someone not oversell a feature.  This board is super responsive with the perfect amount of flex.  So for all those all mountain cruisers that love to rip at all speeds you are going to love this board.
October 22, 2008
By: Scott Briggs
SnowboardReviews.com
Boston – The 2009 Forum Recon is back for another year to help those beginner and intermediate rider take it to another level. For those new to the Forum Recon snowboard, this is easy riding All Mountain snowboard designed all around fun.
The Forum Recon is made with a Compound Matrix Core to give you "a consistent, predictable ride every run, every day, all season long." This snowboard also features a Biax laminate that has been tested to have catch-free response and stability. Having the feeling on your feet that the board is going to respond when you need it to will help you get to the next level as you will not be as apprehensive to push the snowboard. The Recon is then capped with the Forum Free Base which is a very simple base material that allows the snowboard to float effortlessly down the mountain.
Overall this board is really good for all levels at the price, even though it is designed for the beginning and intermediate riders.
Features of The Forum Recon Snowboard:
Compound Matrix Core
Biax Laminates
Free Base
Directional Board Shape
Directional Profile Core
Effective Edge
2009 Forum Recon Prices:
Evogear.com $299.99
Proboardshop.com $299.95
The-House $299.95
August 18, 2008
By Scott Briggs
SnowboardReviews.com
Boston – Forum has brought back the Destroyer for 2009 to show that it knows what riders want in a FreeStyle snowboard. This snowboard is considered by some as their benchmark for progression FreeStyle riding. The board is a true twin tip making it a FreeStylers dream for hitting tricks no matter the condition or terrain.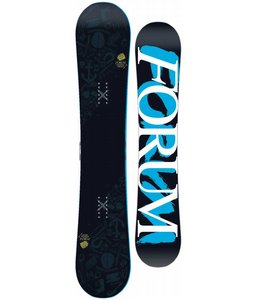 The 2009 Forum Destroyer brings back all the features of the 2008 snowboard giving you a deck that is snappy and stable providing you a great freestyle riding experience. The combination of the Super Gnar LE core the the Light Triax Laminate give you a snowboard that is strong, light and have a ton of flex and pop.
Overall FreeStyle riders of all levels will like this snowboard.
Features of The 2009 Forum Destroyer Snowboard:
Super Gnar LE Core
Light Triax Laminate
Fluid Base
Twin Board Shape
Twin Core Profile
June 24, 2008
Boston – The Forum Lander Snowboard is a all-mountain FreeStyle snowboard that was first released in 2007. For 2008 Forum has made this board even better than it original model so that this board can really do it all. With the Lander you can cruise through deep powder to then carve through the new grooms and you will notice the same consistency.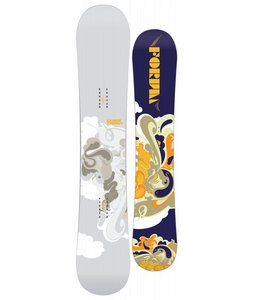 The Forum Lander is super light snowboard featuring the Super Gnar™ LE with Mac 1 core. This core features a combination of vertical strips of hard and light weight wood to give the board not only a lot of strength but also making it light. This snowboard also provides solid torsional flex/response by using light Tri-ax laminates, these laminates will give you the response you want while not adding a ton of weight to the board. The board is then capped off with Forum's high end Sintered Base to give you strength and speed.
Features of The Forum Lander Snowboard:
Super Gnar LE with Mac 1 Core
Directional Shape
Light Tri-Ax Laminates
Sintered Base
June 20, 2008
By: Scott Briggs
SnowboardReviews.com
Boston – The Forum Darkness Insert wide snowboard is brand new for 2008 and was designed based on the Forum Destroyer . The main difference you will see in this snowboard and the Destroyer is that it is a wide board made for the riders who want to press hard in the park and pipe.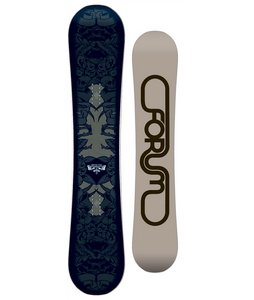 With this new deck for 2008 Forum did a solid job to cater to the riders with bigger feet so they could now rip in the park or pipe and not worry about their toes dragging or getting caught up. Like a true FreeStyle board the shape and profile of the snowboard is a true twin tip to make for easy riding in both directions.
The Forum Darkness has a core made with Super Gnar™ LE technology providing you are strong core that is made for park. This core uses Forum's Grain Belt technology to increase edge hold, snow feel, responsiveness, and overall carving performance. The board also feature Forum fastest Sintered base which when maintained properly it can fly in any condition.
Features of The Forum Darkness Snowboard:
Core: Super Gnar™ LE
Board shape: Twin
Core profile: Twin
Laminates: Light tri-ax
Base: Sintered
Flex: 5
Forum Darkness on sale for $319.95
May 27, 2008
The Forum Destroyer Snowboard is one of the original best selling FreeStyle snowboards designed by Forum. The 2007-2008 Forum Destroyer was not satisfied with its current design and technology so it made some major changes and now they feel they have one of the most versatile boards on the market.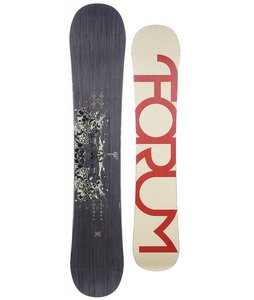 The Destroyer is created with a Super Gnar Twin Core, to give you a rugged core that is responsive, durable and solid on the edge grabs. The board is also constructed with Light tri-ax Laminates to give the board great torsional response while keeping the board strong and snappy. The Destroyer then uses the 7200 Sintered base which is Forum's hardest and fastest base available. Per Forum "when this base is waxed and maintained properly it is their fastest base no matter what the snow condition".
Features of The Forum Destroyer Snowboard:
May 14, 2008
The Forum Recon Snowboard is one of the main stay decks made by Forum that they bring back year after year.  This snowboard is a great deal for the beginner/intermediate boarder that wants an all-mountain board designed for cruising.

The Forum Recon is great for beginners as the construction of this snowboard makes it easy to carve and control.   All riders can remember those first few runs down the mountain where they took a nice face plant or landed hard on their ass.  This board is going to make those toe to heal transitions a lot easier to learn for the new riders.
This snowboard is constructed as an all-mountain directionally shaped snowboard that is great for the cruisers.  The Bi-Ax Laminates give this board a nice balance of flex throughout the board while also giving the board some nice pop.   The P-Tex 4000 Base is a favorite base of riders as it is easy to maintain and ready to rip on all conditions.
Features of The Forum Recon Snowboard:
Core Profile: Directional
May 2, 2008
The Forum Grudge Insert is a light FreeStyle snowboard that rides really smooth. Forum refers to the board as the "Bentley of FreeStyle snowboards" as this board has it all. The board is light with an aggressive shape, strong core, and a fast base. The Grudge is an ideal board for intermediate riders and up who like to ride in all terrains.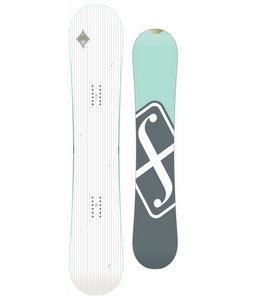 The Forum Grudge Insert Snowboard sets the standard for today's high-performance FreeStyle boards. Those that own this board say it does not get any better than this riding experience.
Forum produced a board that you can be really aggressive on out of the gate and still have the feeling that you are in full control. When ripping through the park this board is going to let you go huge off the the hips thanks to the Super Gnar core with MAC 3. This core is so supper light, strong and responsive it gives you that extra feel of comfort and control as you go big.
Key Features of the Forum Grudge Insert Snowboard:
Core Super Gnar™ LE with Mac 3: Employing Twin Grain Belt technology and three zones of Organic MAC material, our highest-end core features a combination of vertical strips of hardwood dark Aspen and vertical strips of Eastern Lightwood to create a super strong yet featherweight core.
Core Profile: Directional
Laminates: Light tri-ax with carbon plus: Forums most technical laminate, this option combines our light tri-ax with four carbon stringers running vertically down the center of the board resulting in a lightweight and strong board.
Base Sintered: Forum's sintered base is reserved for their highest-end boards. When waxed and maintained properly, this super hard base is by far our fastest no mater what the snow condition.