Ride Kink 2012
January 27, 2012
By Scott Briggs
SnowboardReviews.com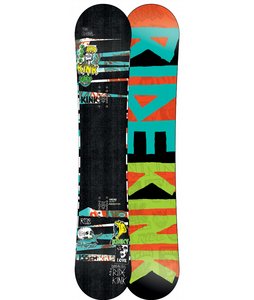 The 2012 Ride Kink is the brand  version of a park monster… this snowboard is made for the park rate that want to go big and hard all day long.   What makes the Ride Kink 2012 a really good park board is stability the boards gives you on the landings a long with the pop needed to go big off all jumps.
Top Tech Features of 2012 Ride Kink:
Prorize – This is the shape of the snowboard and is based off the popular twin tip.   The shape of the board includes the rocker, but unlike other rocker designs it has a long flat section that extends into the tip and tail to drive even more stability.
85A Slimewalls –  The slimewalls are all about being forgiving, this technology helps reduce the  impact from a jump, rail or box.  The analogy Ride provides is this is similar to skate wheels in how they interact with all different surface conditions.
Overal take on the Ride Kink 2012:  This is a board that comes back year over year as on of the top Ride Snowboards.  This board is 100% geared to park riders, so if you are an all mountain rider you are probably better to try another deck.
Check out the Ride Kink 2012 at the following reatailers:
Comments