Ride Yukon 2010
October 28, 2009
By Scott Briggs
SnowboardReviews.com
The 2010 Ride Yukon snowboard is a board made for the big boys.  Ride created this board to be long and wide for the big foot rider, while offering a top level freestyle experience.  The Yukon is a freestyle board with a Twinish shape that can handle all terrains at top levels.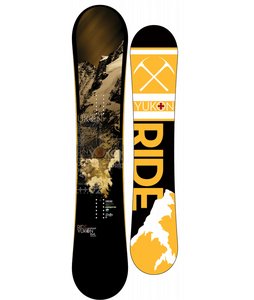 The Ride Yukon snowboard combines 4 of Ride's top tech features; Carbon Array 5, Membrain top, Pop Glass and 90a Slimewalls.
Carbon Array 5- 5 Widespread carbon stringers are placed at the binding zone gather input from any stance width and all pressure angles. Rider input is then channeled to the opposing contact point for maximum board control.
Membrain Top Sheet –  Weighing less than half of traditional top sheets, Membrain® maintains a smooth feel by infusing urethane into fabric. Along with pushing limits in the world of lightweight, this process also allows us to push the boundaries when it comes to graphics. By utilizing the textures and aesthetics associated with a variety of fabrics, Ride is able to achieve graphic tricks that are simply not possible with conventional printing techniques.
Pop Glass – 90° Carbon fibers stitched into the glass. Extra pop, without adding extra stiffness.
90a Slimewalls- The 90A durameter urethane is found on all ATV style boards, delivering increased response with the same smooth feel.
Overall the 2010 Ride Yukon is solid snowboard for those who want to take their riding to the next level.  But if you are a rider that is all about having a super soft board, this is not the right board for you.  This snowboard is for that rider that loves to press hard and likes a board that is a little stiff.  So those big foot guys out there that could not find the right board to take their freestyle riding style to the next level, this is the board you want to try.
Check out this Board:
Comments