Ride Kink 2010
September 20, 2009
By Scott Briggs
SnowboardReviews.com
The 2010 Ride Kink is about about the PARK, this is a board that is made to take a beating.  Sometimes there really is meaning in a name,  you know that sound you here every time you hit the rail hard with you board………………… "kink", that has to be why Ride named it.  Even though this is considered a true park board, the Ride Kink is made with a twin tip FreeStyle shape and has a centered stance.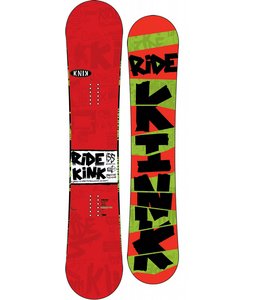 The 2010 Ride Kink features one major change and that is the addition of the LowRize sidecut.  The LowRize sidecut is basically a radial sidecut without the hook.   Ride refers to in like this : "Straighter, truer tracking into transitions and jibs by lengthening the blend zone from the sidecut to the tip shape. Built exclusively with the LowRize™ rocker profile."
This Ride Kink also features the Cleave Edge and 85a Slimewalls.  The Cleave Edge is all about more steel so the edge will not crack and it can take a beating, the reason why this board is a stud in the park.  The 85a Slimewalls are made to absorb impact rather than defending against them, this is the little bit of love you are going to need to make you feel a little better when you are about to land the big air.
Features of the Ride Kink Snowboard:
Thin Con
85A Slimewalls®
Foundation Tuned Core™
Cleave Edge™
Biaxial Glass
Fusion 1500 Base™
2×4 Inserts
Buy this board:
Comments