November 26, 2008
By Scott Briggs
SnowboardReviews.com
Boston – The 2009 GNU Danny Kass BTX is the winner of the Transworld Snowboarding Good Wood Award.  The GNU Danny Kass is a great all mountain freestyle board designed for riders that love to hit it all.  This snowboard is named after two time Olympic silver medalist Danny Kass, Danny is responsible making this one of the top boards on the market.
For the 2009 GNU Danny Kass BTX they added "Banana Technology" to his Pro model series making it a true twin tip.  Banana Technology incorporates a 'banana' rocker under foot which reduces catch at the ends of the board, allowing the board to float through tight transitions.  The board also incorporates Magne-traction, providing superior edge hold in sketchy conditions.
To top it all off, the board features some great goulish graphics, crafted by GNU art man Tim Karpinski.  According to GNU: "Pinski lives in an old haunted house in Portland, Oregon and hangs out with witches."
Features of the GNU Danny Kass 2009:
Construction: Sandwich with UHMW sidewalls
Glass: Quasi-Isotropic Glass with 4-way fiber orientation
Core: Mervin AG2 Core (Aspen & EISS 9 layer endgrain Birch)
Base: Sintered 9900 Base
Shape: Twin Shape with Banana Technology and Magne-tracation

Gnu Danny Kass BTX 2009 from $529.00
May 21, 2008
The 2007-2008 Gnu Hampus Pro Snowboard is the pro board for team rider Hampus Masseson. The Hampus Pro is a Twin Tip FreeStyle snowboard that is made to ride the whole mountain, but it performs really well in the park.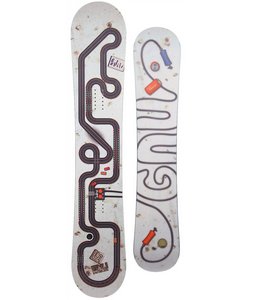 The Hampus Pro is constructed with Harmonic Directional Sidecut and Magne-Traction giving this snowboard amazing stability and control. These edges really bit into the snow when you are turning and they do not get hung up when you are rail riding. On this board when you are cranking down the mountain or hitting the rails and boxes you will feel in total control.
This Gnu snowboard also features a core of Altered Genetic Aspen wood to make the board ultra lightweight while also being very strong. The EISS 9 Sidewalls provide this snowboard super light spin weight and a ton of pop. The board is capped off with a Wax infused Sintered Base to make the board super fast and low maintenance.
Features of The Gnu Hampus Pro Snowboard:
Wax Infused Sintered Base
Harmonic Directional Sidecuts
Altered Genetic/Aspen Cores
May 6, 2008
The Gnu Carbon High Beam Mtx Snowboard is Gnu's best selling snowboard that has added the Magne-Traction to the 2008 line. The Magne-Traction is technology that gives you more control on you edges for an easier and smoother ride. This is an all-mountain FreeStyle board that is great for carving at high speeds. You will be cruising down the mountain and not once feel like you are out of control, making for a great riding experience in any condition.


The Gnu Carbon High Beam MTX is a twin tip board using the Mervin Sandwich construction. Mervin Manufacturing is the company that makes boards for both GNU and Lib-Technologies. The Aspen Wood Core makes this a nice lightweight board with a fare amount of flex that will please those all-mountain FreeStyle riders. With any all-mountain board you want a base that will be low maintenance, the CX2500 is hard, fast and virtually maintenance free. You will put on some wax every few rides and this board with crank down the mountain.
Key Features of The Gnu Carbon High Bean MTX Snowboard:
Proven Mervin Sandwich Construction
CX 2500 Low Maintenance Base and Rugged UHMW Sidewalls on Twin Shapes