Ride Fleetwood 2010
January 25, 2010
By Scott Briggs
SnowboardReviews.com
The 2010 Ride Fleetwood snowboard is a freestyle board that is made for the tall guys with big feet.  This is a wide directional shape snowboard that Ride created with the bigger rider in mind.  Before you continue to read my review you need to know I am not a tall guy with big feet, so this board is not in my sweet spot.  I am actually not a fan of wide board as I find them harder to go edge to edge.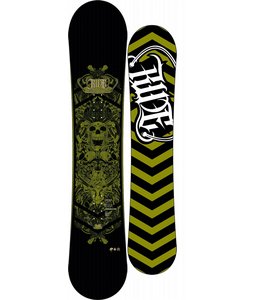 The Ride Fleetwood 2010 features some of Ride's top technology like the 90a Slimewalls, Radial Sidecut and Linear Carbon Laminate.  The 90a Slimewalls is some of Ride's top sidewall construction that is going to give you that smooth feel and quick response.  You will notice as you are riding this board that it will notice that when you want it to respond to a quick turn or landing that it will come through.  The Radial Sidecut is what makes this snowboard turn on a dime, it basically has a a sidecut that is one radius throughout the board which makes it super  smooth on turns.  Lastly the Fleetwood features the Linear Carbon laminate, this laminate give the board that extra snap for when you are pushing off the job or just trying to do a ollie off the ground.
Overall if you are a big rider you will probably like this board.  For me personally I am not a fan of wide snowboard and it was a little stiff, so this is not a great board for me.   Some positives about this board are that it is pretty inexpensive, lightweight, smooth and has some pop.

Features:
Thin Con
90A Slimewalls®
Foundation Tuned Core™
Biaxial Glass
Linear Carbon
Fusion 1500 Base
Buy this Board:
Proboardshop from $359.99
The-House from $359.99
Comments