Lib Tech Youth In Asia
May 9, 2008
The Lib Tech Youth In Asia Snowboard is a mid wide freestyle board, designed for those who love to ride the park all day long. Lib designed this board to be a little thicker than the average snowboard for those riders who wanted to press harder and not worry about the board snapping.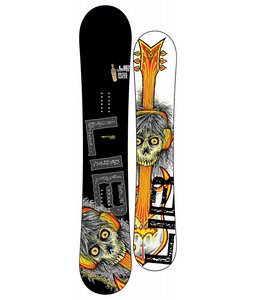 This board was constructed with a Correct Sandwich, Morning Wood Core, and Radical Sidecut to give you a board that is light, fast and smooth with a lot of pop. The Supersized Edges, Sintered Base, and Roll Bottom make for a great jibbing board as you can really hit the rails and boxes hard and not worry about getting hung up or beating up your base or edges.
Notes: Overall great for Jib and park rider. Even though we call this a light board, it is really heavier than some comparable boards as the construction is that much thicker. This board is no means heavy, but not super light.
Key Features of The Lib Tech Youth in Asia Snowboard:
Skid Plate Sintered Base Material
Comments