Rome Agent Snowboard
May 16, 2008
The Rome Agent is a FreeStyle board that is very close to a Twin shape. The 2008 Agent was created with New Technology and a New Shape to make this a fund board to use on the whole mountain. Rome refers to this as a board that treats the whole mountain like it is the snowboard Park.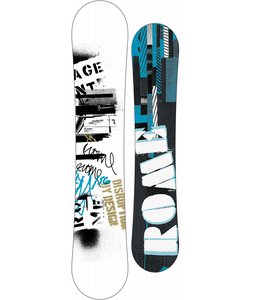 The Agent was constructed with the Superpop Core Matrix and the Straight Triax 230 Carbon laminate to give you a board that is superlight, smooth and has a ton of pop. The SinterSpeed Base is know as one of the fastest wax absorbing bases that really cranks. With this base you will not have a problem getting enough speed to clear the big gap jump.
To make this a great park board Rome has used their technology of Impact Plates, Impact Edges, and Park Edge Profiling making the jumps of rails and boxes easier. With this technology you takeoffs and ladings will be smoother, while you do nit have to worry about beating up the base and edges of your board.
Features of The Rome Agent Snowboard:

StraightTriax 30 Carbon Laminate
Comments