Lib Tech Skate Banana BTX 2010
October 17, 2009
By Scott Briggs
SnowboardReviews.com
The 2010 Lib Tech Skate Banana BTX snowboard is back for another year and one of the hottest boards on the market.  Lib Tech is pushing to make their boards some of the best on the market and the Skate Banana BTX snowboard has already won the 2010 Transworld "Good Wood" award and the Snowboard-mag excellence in Board Design Award.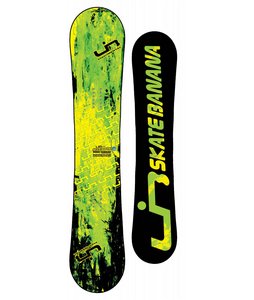 The Lib Tech Skate Banana BTX snowboard features the banana rocker between you feet to giving you a loose catch-free riding experience.  I think one of the biggest things you will notice with Lib Techs banana technology is the amazing control you can have over your board.  The Skate Banana BTX has many cool features to keep you wanted more like the Magne-Traction to provide a skateboard style riding experience  and the H-Pop Core giving this board a ton of Pop.
Overall the Lib Tech Banana Skate BTX snowboard is a fun freestyle board that can rip up the whole mountain…. the key feature that anyone who is a true rider will love is the control you are going to feel with this board.
Check this board out:
Comments