K2 Jibpan 2010
February 11, 2010
By Scott Briggs
SnowboardReviews.com
The 2010 K2 Jibpan snowboard was created because they wanted to create a board that would just crush the park.   k2 says this is the ultimate park snowboard for the rider who has been hitting the WWW hard and wants to take the next step in the park.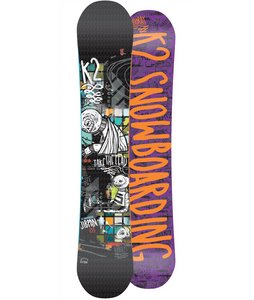 The K2 Jibpan is a twin tip, high performance, jibbing machine that K2 loves to take to the next level.   One of the big differences you are going to see in the 2010 Jibpan from the 2009 is the addition of the K2 Jib Rocker.  Per K2 Snowboards the jib rocker is "JIB ROCKER allows for a loose, buttery feel while jibbing around the park or slaughtering the streets. Whether you're pressing boxes or just playing around on the flats, JIB ROCKER has a forgiving no-catch feel that allows you to pull off even the most wild combinations. The flat mid-section allows you to lock into rails like you were on a skateboard.".
Another feature of the K2 Jibpan that the riders are going to love is the use of Harshmellow.  Harshmellow is a thin layer of polymer added to the board to reduce that annoying vibration that comes when riding at fast speeds.
Overall park riders are going to love this board and have a ton of fun with it, myself I am more of an all mountain rider so this is not the best board for me.
Features of The K2 Jibpan Snowboard:
Harshmellow
Jib Tech Tip Tech
Twin Tip Hyper Progressive Shape
Wh4 Core
Triax Top, ICG 20 Base Glass
Carbon Matrix ll Torsion Fork
Sintered 4000 Base
New Jib Rocker Baseline
Check this Board out:
Comments