Capita Stairmaster Extreme
May 20, 2008
The Capita Stairmaster Extreme is a park Snowboard that is limited produced by Capita.  This snowboard is a True Twin tip FreeStyle board that has the perfect amount of flex to really rip up the park.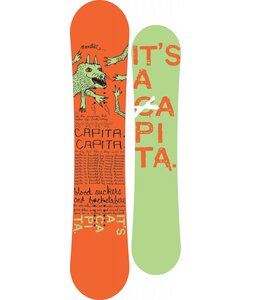 The 2007-2008 Stairmaster Extremes added a new dampening system to this snowboard to give it better impact resistance when landing off a jump, rail, box, etc.  The SS Select Core technology gives this board more reliability and stability while also allowing for a consistent flex throughout the board.   The Extreme also uses the Sintered 4000 speed base which allows for extended periods of fast rides
Overall base on performance this is a awesome snowboard for the park and job riders.  Then when you add in the price  you will see the value vs. performance of this snowboard is a 10.
Features of The Capita Stairmaster Extreme Snowboard:
Special Blend pre preg fiberglass configuration
Die cut sidewalls with dampening system
Comments