Burton T6 2010
October 25, 2009
By Scott Briggs
SnowboardReviews.com
The 2010 Burton T6 snowboard is a board that is designed for an advanced rider who really wants to take it to another level.  This is a snowboard that is all about speed and control, so no matter the condition this board can really rip it up.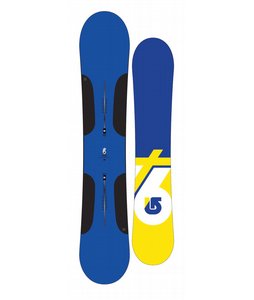 The Burton T6 snowboard has three of Burtons top tech features that it adds to it boards; Smooth Ride Technology, The Channel, and Alumafly Core:
The Smooth Ride is dampening technology that is exclusive to the T6, it is all about letting the rider react quicker, go bigger, and faster while reducing the impact on your body.
The Channel, basically gives a rider the most direct connection with their board by focusing power through a central connection spine that evenly distributes energy for added rebound and snap.  As a rider one of the best parts of "The Channel" is that it lets you mount bindings to board any way you see fit – adjustability is endless.
The Alumafly Core is Burtons first "tip-to-tail aluminum honeycomb core is 90% air by volume and represents the perfect union of ultra high-grade honeycomb technology and EGD".   This core is going to give you a ton of pop and explosive response.
Overall the 2010 Burton T6 is made for the advanced rider that wants to go big in all ways.  For those that decide this their board of choice for 2010, the advanced technology of this snowboard is going to make you a happy rider.
Check out this board:
Comments