Burton Custom V Rocker 2010
January 9, 2010
By Scott Briggs
SnowboardReviews.com
The 2010 Burton Custom V-Rocker is a new Burton board for the 2010 season and some are already saying it is one of their best new additions in a while.  This board takes all the top elements that already existed in a Burton Custom and adds the Burton Rocker technology.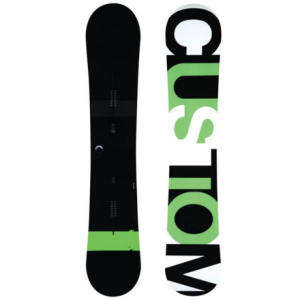 The Burton Custom V-Rocker comes with some of Burton's top following technology like the V-Rocker, The Channel, and Dualzone EDG.
The V-Rocker is basically places a rocker between your feet, with two additional rockers at the tip and tail that to keep each end completely off the snow.  For those who have never experience the rocker shape before, this style makes those on ground tricks like spinning and jumping super easy.  The Channel I have talked about before and some riders love it… for me I don't change my binding settings that often so I am not the hugest fan of "The Channel".  And lastly the Dualzone EDG is one of my favorites, it takes the wood grain and positions it along the toe and heel edges, perpendicular to the rest of the wood core, for superior edge hold and added strength.  For anyone who has been cranking down the mountain and had that edge give on them and took a hard face plant you will appreciate why I think the is one of my favorite features.
Overall I am a fan of this snowboard.. I have always been a big fan of the Custom and this one with the V-Rocker makes it that much better.  If you are looking for a stiff or longer snowboard you are not going to like this board.  The Custom V-Rocker rides soft and only comes in 151,154, and 156.
Buy this Board:
Comments