Burton Clash 2009
January 11, 2009
By: Scott Briggs
SnowboardReviews.com
Boston – The Burton Clash Snowboard is back for another year here to help the new riders learn how to rip it up faster.  Burton says the 2009 design is made to make sure you are riding and not sitting on your backside the whole first day.  So for those skiers out there that inside really want to switch over to boarding… the Clash is here to help you.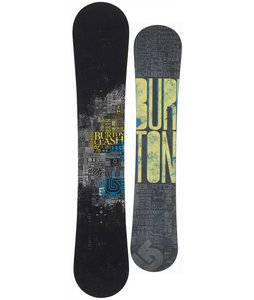 The 2009 Burton Clash Snowboard features Cruise Control™ to make the board super forgiving and creates a less stressful ride. The Cruise Control technology is really all in the edges. The edges are turned up at the tip and tail to make the carving that much easier to help you progress more and more each time you ride. Any rider will tell you the toughest part of learning how to snowboard was those few days where you would really bite it hard every time you caught an edge. The Cruise Control is going to make the process easier to let you progress and really love riding more and more.
Who is the Burton Clash made for? This board is designed for the beginner and intermediate riders. Both sets of riders are really going to love this board because of the Cruise Control technology to help make them better boarders. So for those skiers out there that are afraid to venture over to snowboarding, this board is going to make it easier on you.
Features of the Burton Clash Snowboard:
Twin Tip
Lightspeed Vision
Core: Fly Core With Negative Profile
Fiberglass: Biax React
Cruise Control Tune
Comments