Burton Blunt 2010
September 19, 2009
By Scott Briggs
SnowboardReviews.com
The 2010 Burton Blunt is back for another year and bigger than ever.  Burton seems to love this snowboard and is putting more and more tech into it each year.   The Burton Blunt is one of the ultimate Park Boards that will help take you to the next level.  Transworld Snowboard has already named the Burton Blunt the "Good Wood" Pipe board for 2010.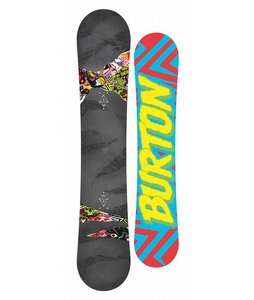 The 2010 Burton Blunt has top notch enhancements, the New Twin Cruise Control and the V-Rocker.    The Burton Cruise Control™ technology will  make you feel more confident while riding this snowboard.  The reason you will feel confident is Cruise Control gives you a combination of not only being catch-free, but also have a softer flex and less edge tune and a  convex nose and tail for easy riding in both directions.  The second layer of new tech is the V-Rocker, Burton's version of the rocker features a center rocker between you feet with additional rockers on the outside of each that lift the tip and tail completely off the snowboard.  The V-Rocker is going to give you killer edge control and a catch-free riding experience.
Overall the 2010 Burton Blunt is going big with some major enhancements to give you the ultimate ride.  Even though this is called a Park snowboard, this is a board you can have a ton of fun with on the whole mountain.
Buy this Snowboard:
Comments