Burton Blunt 2009
September 9, 2008
By Scott Briggs
SnowboardReviews.com
Boston – The 2009 Burton Blunt Snowboard is back with new enhancements to make it even better than last years model. The Burton Blunt is a twin tip FreeStyle Park Snowboard that is designed to take a beating without breaking. When Burton designed the Blunt snowboard that wanted a board that a rider could just pick up and go, the mission was all about riding so the made sure the board was almost maintenance free.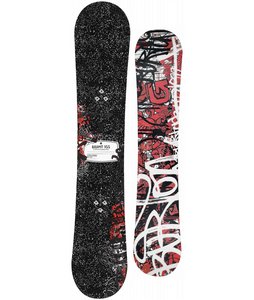 The 2009 Burton Blunt Snowboard has two new features the Rail Ready Tuned Edges and the Ultra Light Pro-Tips. The Rail Ready Tuned Edges are designed to not catch on the board slides, yet still provide a solid edge grab when coming into a hit. The Ultra Light Pro-Tips is technology used to reduce the swing weight of the board allowing you to pull off the 360s smoother and allows the board to float through the deep powder.
The main features of this snowboard are the FlyCore with Negative Profile, Biax React Fiberglass, and the Lightspeed Vision Base. The FlyCore is made by strategically placing strong and lighter wood throughout the board, provide a strong board and a lot more snap. The Biax React Fiberglass provides you the low torsional flex and a forgiving feel. The board is then capped off with the Lightspeed Vision base, this base is strong, fast and basically a maintenance free.
Overall park riders who want a board at a great price and all they care about is hitting it hard, will love this board.
Features of the Burton Blunt Snowboard:
Twin Tip Shape
Lightspeed Vision Base
Fly Core With Negative Profile
Biax React
Slantwall Sidewalls
Rail Ready Tune Edges
New Pro Tip and New Wide Series
Comments