Arbor Element
May 4, 2008
The Arbor Element Snowboard is hands down one of the best looking boards on the market. The wood grain top is a 10 in style right out of the box; the top is made of Koa wood the same wood used by the Polynesians to make the original surfboards. For those surfers who like to rip on the snow in the winter you are going to love this board as soon as you see it. Outside of being a great looking board you are going to find this to be a fun board that easily transitions between mountain conditions. One minute you could be cruising down the deep powder to then landing a big air in the park and you will not notice a difference in the control of this board.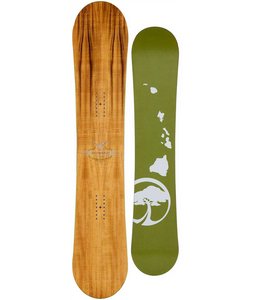 The Element is an all-mountain board that can be used on any condition, it has a progressive sidecut for easy turning and high-speed control. They key to control on this board is that is holds a solid edge, removing the fear that at top speed that this edge is not going to hold. Like other boards the core of this board is made with a material that makes it ultra-light weight to provide more speed.
The 2007/2008 Arbor Element's balanced design combined with the edge control truly give you an all-around board that can ride the whole mountain. With any snowboard you want lightness for speed and then a combination of durability and stability for control. Arbor has done a solid job with the Paulownia Wood Core to create a light and fast board, then P-Tex sidewalls and Progressive sidecut give you the durability and stability for initiating easy turns, great edge control, speed, and smooth landings.
Key Features of the Arbor Element Snowboard:
Full-Length Wood Top sheet
Progressive (Tri-Radial) Sidecuts
Comments