Academy Recruit
May 29, 2008
The Academy Recruit Snowboard is a twin tip board designed for the FreeStyle riders. This snowboard is a jibbing machine and perfect for the intermediate and advanced riders.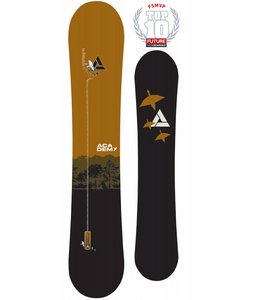 The Academy Recruit is constructed with the park, rails and jibbing in-mind using a Super Cap Twin construction. The Super Cap-Construction is going to make the board snappy for the ollies and allows you to press this board hard without worrying of snapping it. The Flex and durability of this snowboard comes from the core which is constructed using a full tip to tail Canadian Aspen wood core. The base of this board features a Sintered 2000 which will give you great speed while being extremely durable.
Overall this is board performs best in the park and street and the value you get in this board is worth giving it a shot. Academy refers to this snowboard as "Very Durable And Can Take A Beating Without Breaking Your Bank".
Features of the Academy Recruit Snowboard:
360 Super Cap-Constructed Twin
Lightweight Canadian Aspen Wood Core
Full Tip To Tail Wood Core Is Wrapped In A Tri-Axial Stitch Fiberglass
Comments