2009 K2 Anagram
September 26, 2008
By: Scott Briggs
SnowboardReviews.com
The 2009 K2 Anagram snowboard is a FreeStyle twin tip board that is perfect for the rider that like to do it all. The big draw to this board is the price, but the value you will get for board far surpasses the price.  Even though this snowboard is extremely reasonable in price you are going to notice that K2 did not cut any corners with technology and performance.  The Anagram is a board that is not going to hold you back from being a better rider, whether it is learning the basics or pulling off new tricks.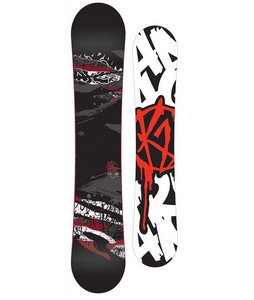 The 2009 Anagram is designed with the Hybritech Construction of capping the tip and tail to produce low swing weight for spinning while also making turn initiations easier and smoother.  The board also features the W1 core, this core is a single piece of pure wood that has a proven flex, durability, and snap to provide you a board that is light, responsive and can take a beating.
The K2 technology of using the Dual Progressive sidecut is truly designed to appeal to alll level riders.  This sidecut makes the board forgiving which allows for a consistent ride in all conditions.  When you have a sidecut like this board new Riders are going to be less nervous learning that front side turn for the first time as the board is going to be more forgiving than that average board.  For the intermediate riders you are going to see that you progression as a rider is going to develop faster when you have a board that is mistake friendly as you will not be taking a many hard hits as you try to learn more.
Features of The K2 Anagram Snowboard:
Hybritech Tip Tech
Twin Tip Dual Progressive
Centered Stance
W1 Core
Biax Top & Base
2000 Extruded Base
Comments